Updos: What Every Hairstylist Should Know
Nov 30
Being a hairdresser requires a great deal of originality. There is a wide variety of motivations for customers to visit a hair salon. Certain customers get their hair done for formal events. Some customers who visit the salon do so because they are engaged in some sort of creative endeavor that necessitates a specially groomed hairdo. If you want to make it in the hair industry, you'd better be able to pull off a wide variety of looks, including elaborate updos.
To begin, the history and development of updo hairstyles spans centuries. As a versatile style that works well for both the office and after-hours, updos are a great choice for a wide variety of formal and informal events. Create stunning updo hairstyles that your customers will want to show off with ease. Using tried-and-true methods that guarantee long-lasting style for special occasions is essential when developing the ideal updo hairstyle for a client.
Exactly What Is The Definition Of An Updo?
The term "updo" is used to describe a category of hairstyles in which the hair is pulled up and away from the face. Pins and hair bands are used to keep the hair from unraveling. The various variations of updos allow them to be tailored to the client's desired aesthetic. There are some ladies who choose to wear their hair up for work because it helps them seem more put together while also keeping their hair out of their face. However, updos are reserved for more formal occasions.
Customers who are celebrating a special occasion or attending a formal function are more likely to request an updo. A customer may hire a hairdresser for an updo for a variety of special occasions, including weddings, birthdays, and professional gatherings. Hairstyles like an updo or half updo can instantly elevate your look to the next level of sophistication and elegance. Helping people look and feel their best for special occasions is one of the finest parts of being a hairdresser.
No matter how short or long a client's hair is, an updo may be created. A client with shorter hair can still have the appearance of longer hair by using pins to hold the hair in place. Similarly, if your hair isn't long enough to do an updo, you may use extensions to add some. An updo may last anywhere from a day to a few days before it starts to fall flat, depending on how well you do your job. This is why the majority of your customers will visit you the day of or the night before a special occasion.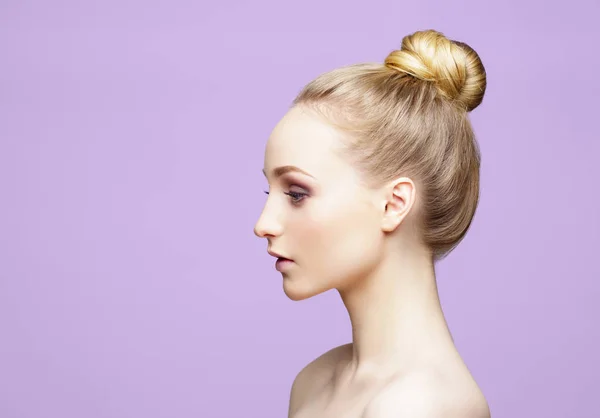 How Did This Updo Come To Be?
Indeed, updos have been around for quite some time and have undergone significant development throughout the years. The beehive, finger curls, and punk spikes are just a few examples of how these defy-gravity hairstyles influenced the course of events. Flappers in the 1920s would use pomades and styling gels to achieve the chic finger curls that were synonymous with the era. It would help them maintain a pristine coif.
In the 1920s, short hair was all the rage, but by the 1940s, the beehive and other huge updos had taken their place. Big updos were popular in the 1950s, after the introduction of aerosol hairspray. The bouffant and beehive were two of the most iconic hairstyles of the era.
These more substantial updos went through a sleek transition and faded from favor in the 1970s. However, huge, puffy hairstyles like Mohawks and spikes brought the updo back in style during the 1980s. As a result, hair care products become an absolute must-have. These updos wouldn't stay put without the use of styling aids like gel and hairspray.
Current Styles
In the 00s, ladies started wearing updos for more casual occasions as well as formal ones. In place of the big, bouffant styles, these new cuts were smooth and casual. In contrast to previous hairstyles, the current updo really enhances a woman's appearance. It's still possible to get a sophisticated and dramatic updo.
When Would An Updo Be An Appropriate Choice?
Updos are typically associated with formal events and celebrations. The prom, weddings, parties, and other formal gatherings are all examples. A sophisticated, one-of-a-kind look can be achieved with an updo as opposed to just wearing the hair up or in a ponytail or bun.
Styling products are a need for maintaining an updo. The adaptability of the updo is determined by the skill with which it is executed and the quantity of styling product utilized. For this reason, they are perfect for a night out dancing and socializing with coworkers and friends.
What Kind Of Hairstylist Abilities Are Necessary To Make A Good Updo?
There is a wide variety of updos to choose from. With the right tools and skills, you can create any updo hairstyle, from flower-braided braids to elegantly draping locks of hair. As a hairdresser, you should always be working to improve your craft. You'll get better at making long-lasting updo hairstyles with practice.
Select a concept or theme for the client's hairstyle first. For certain occasions, your customer may even bring in a photo of the hairstyle they want you to create for them. The next step is to get the hair ready so that it will hold its shape while still being pliable. A number of mousses, gels, and sprays can be used to assist in the formation of an updo.
Backcombing
The more practice you put into perfecting your technique, the more you'll learn which things are essential for creating the ideal updo. Adding volume to your hair without using extensions or styling aids is possible with some careful backcombing. Use hair pins to keep the look in place. The pins' purpose is to maintain the client's sense of style rather than allow the style to sink in.
Brush Up On
It may seem pointless to comb out the hair after finishing the style, but doing so may actually do wonders for the updo's volume and overall appearance. Because of this, the hairdo can pass for business appropriate. The more you do this hairstyle, the better you'll get at it, and the more happy customers you'll have.